Always a favorite of mine, a simple and honest cake. Rarely do I think to cook one at home, but this week seemed the opportune moment, working from home, the v60 dripping continually, I felt there was something missing. Cake! Perfect to nibble on whilst emailing, whatsapping and facetiming.

Here I used the confit grapefruit I made in an earlier recipe, to add a little cheeky bitterness, combined with the red peppercorns its an interesting combo. The cake works well with any confit citrus fruits. No confit fruits? Add the fresh zest of 1 piece lemon or orange. No lemons or oranges? Raisins? Dried cranberries? Anything you like really.
They keep fresh for 5 days at room temperature, wrapped well in clingfilm. I made a double recipe and put 1 in the freezer, ready for next week's emailing spree. The other one disappeared on the first day, not quite sure how…
For 1 cake mould 18 x 7 x7 cm
- Egg 100g
- Sugar 120g
- Double cream 35% fat 60g
- Pastry flour 125g
- Ground almonds 25g
- Baking powder 3g
- Small pinch of salt
- Melted butter 40g
- Cashew nuts 10g
- Grapefruit confit 20g
- Ground Red peppercorns 1 small pinch
Preparation:
1. Preheat oven to 160 degrees

2. Toast the cashew nuts in the oven 5-10 mins, let cool, chop roughly 2-3mm

3. Use a whisk and beat the eggs and sugar until white, then add in the cream, beat well

4. Mix together all the powders – flour, almonds, baking powder and salt

5. Add dry ingredients to the egg mixture, mix well

6. Lastly add in the chopped cashew nuts, the confit grapefruit and a pinch of ground red peppercorns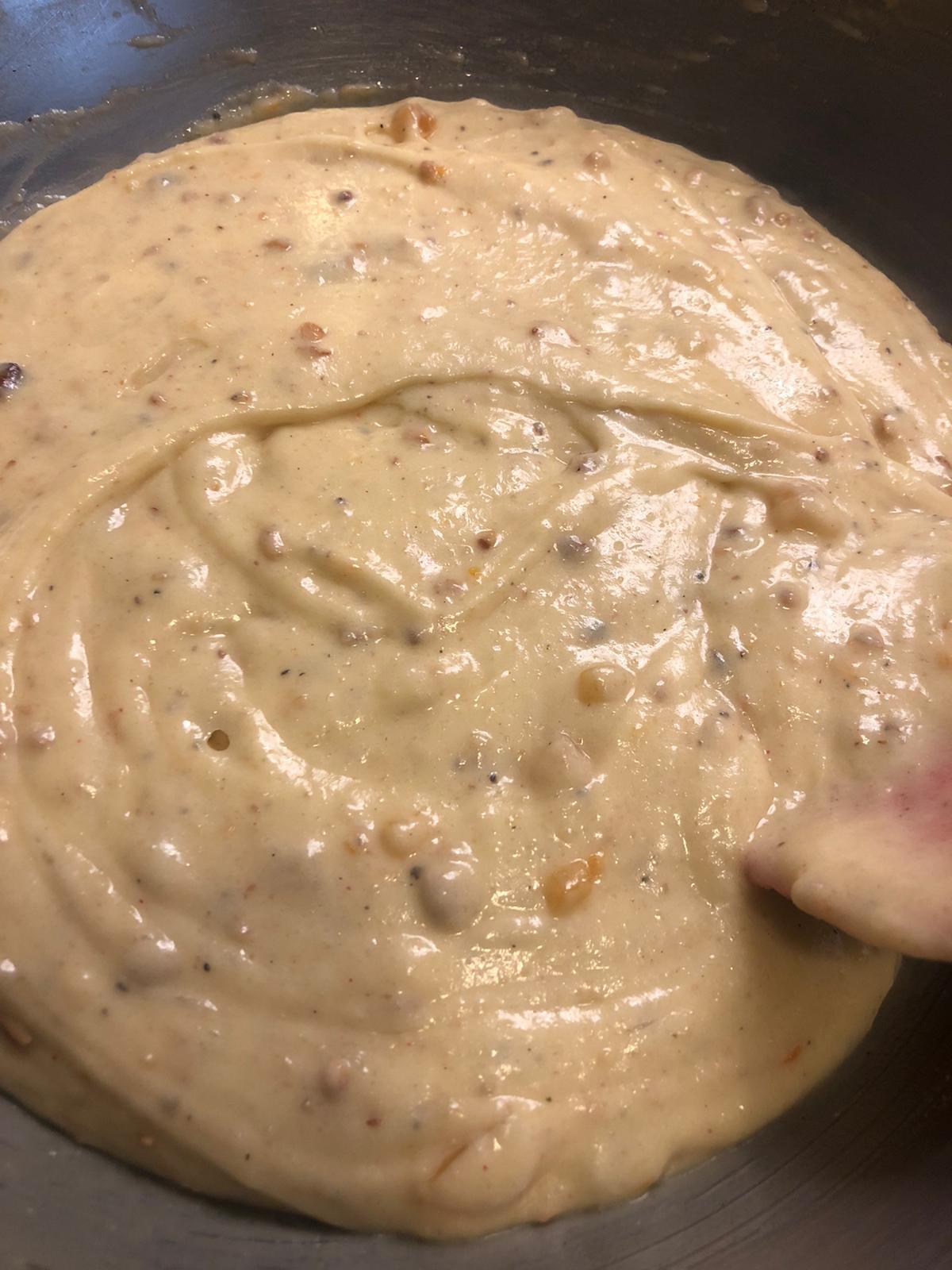 7. Grease the cake tin with butter, then dust with flour, shake off well any excess of flour

8. Fill the mould with the mix, it should be ¾ full, tap it on the worktop, make sure its evenly distributed.

9. Cook it for 35-40 mins, check the cooking in the middle with the tip of a knife or a toothpick.

10. Take it out of the oven, wait 10 mins before trying to remove from the mould.

11. Wrap once cooled.
Hope you liked this recipe. If you tried it at home, please let us know how it went, we can't wait to see pictures of your Cake au fruit confit. Otherwise, you can find this recipe in Romanian here: Chec cu confit de fructe.