This focaccia is a flatbread traditionally from Genovese, Italy. It's a great bread for snacking on as an aperitive, sliced in half and filled for sandwiches. Think tomato, mozzarella and pesto, raw ham, arugula and cornichons or tuna and mayonnaise with capers and roast bell peppers. Anything you fancy! You can't really go wrong! I have a panini machine at home, focaccia really rocks stuffed with cheese and warmed through.

The recipe is basically the same as the simple sourdough from last week, with the inclusion of extra virgin olive oil at the first 30minute mark. The oil will break down the dough a little when first incorporated, don't panic! It will come back with a few more folds and a little more time. Don't hesitate to give a 5th set of stretch and folds after 3 hours if the dough looks weak (maybe a little wet), that all depends on the quality of flour you are using. It may be a little slower to rise than the simple sourdough, the oil slows down the whole process. Best results will be achieved with a Tipo 00 flour, but a strong bread flour will do just fine.
Recipe for 1 tray 30x20cm
- Flour Tipo 00 or T650 400g
- Water 240g (20-25degrees)
- Sourdough 200g
- Salt 10g
- Extra virgin olive oil 80g
Preparation:
1. Weigh all ingredients apart from the oil, place together in a mixing bowl, mix 1-2 minutes until roughly combined.

2. Wait 30minutes!

3. Next add the oil on top of the dough and start to incorporate, by squeezing the dough through yours fingers, then by using the stretch and fold technique. <see video> Pull the dough up from the sides and fold back in on itself until almost all the oil is incorporated, around 8-10 times should suffice. Don't worry if the dough is still a little scruffy, it will develop over the next few hours.
4. Wait another 30min!

5. Repeat the same process of stretching and folding the dough, but don't squeeze the dough like in step 3. We are now looking to develop the strength of the dough. Depending on your flour and the room temperature, it should take 3-4 sets of stretches and folds giving a 30min pause between each set.

6. In total the dough should take around 4-5 hours to rise, until you can see bubbles that have formed, it has doubled in size and feels bouncy and puffy to touch.

7. Put a piece of greaseproof paper in your baking tray, drizzle over a little olive oil then turn the dough out of the mixing bowl into the middle of the tray, drizzle a little more oil on top and use your finger tips to spread out the dough evenly. Add now any garnish on top that you prefer, sliced olives or sun dried tomatoes etc. Push them slightly into the dough, but let them still be visible.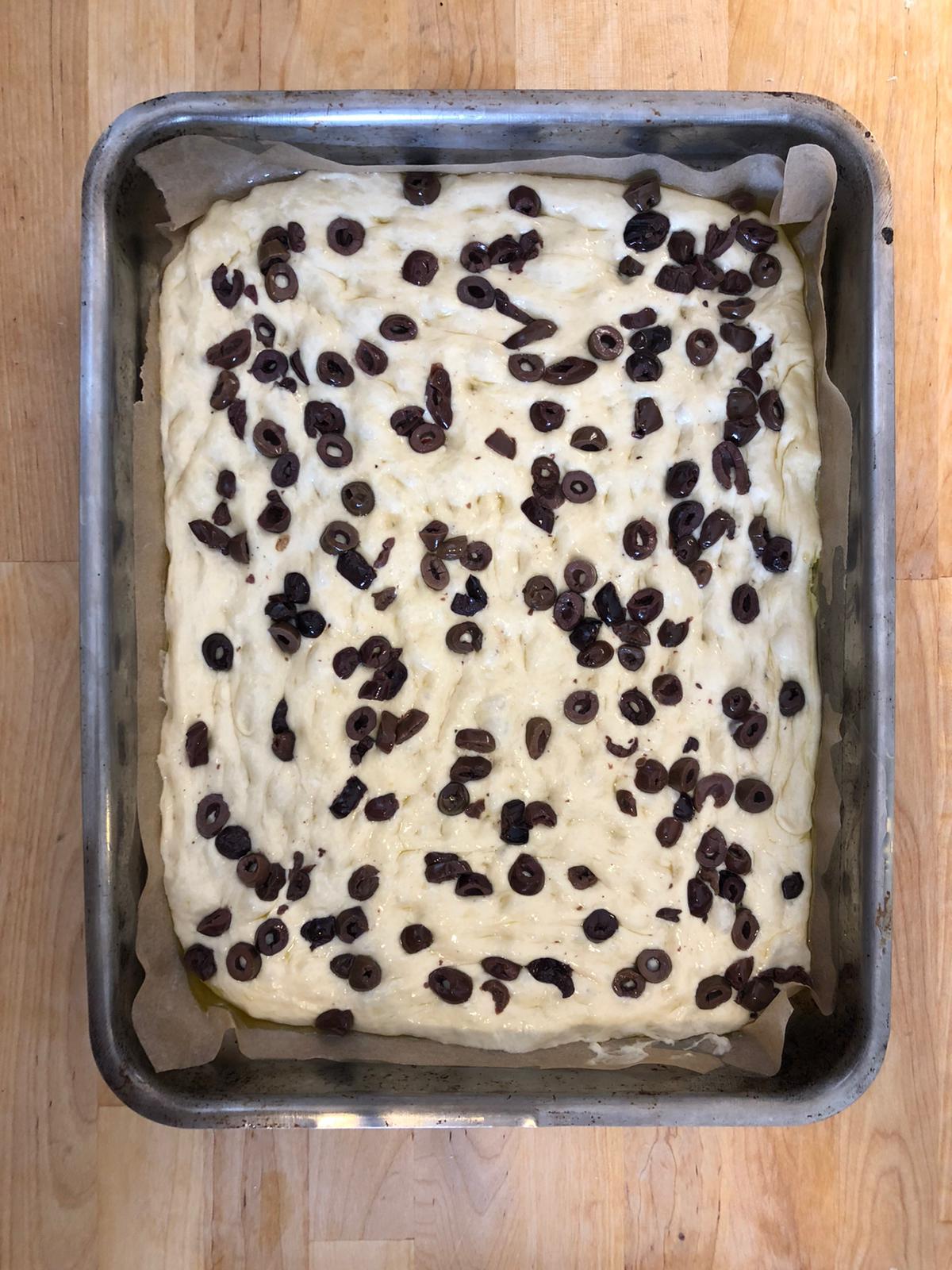 8. Leave the dough to rise for about 2-3 hours, or until it becomes puffy to the touch and you can see more bubbles have formed under the surface.

9. Heat the oven to 200 degrees, with one empty tray at the bottom of the oven and space in the middle to put your tray with the dough.

10. When ready to bake, sprinkle some dried herbs on the surface, place the tray in the middle of the oven and pour a small cup of water (around 150ml) into the hot tray at the bottom to create some steam, close the door quickly.

11. Cook for around 35-40 minutes, turning the tray halfway through baking. Be sure to check underneath to see it is cooked enough.

12. When finished, drizzle with a little more oil and sprinkle with some Maldon salt flakes.

13. Remove from the tray and leave to cool on a grill.

14. Nibble some focaccia and sip a chilled Prosecco!
Hope you liked this recipe. If you tried it at home, please let us know how it went, we can't wait to see pictures of your Focaccia. Otherwise, you can find this recipe in Romanian here: Focaccia.