These are great little rustic tarts that do not require any special cutters, nor do they take a lot of time to prepare. They are top class comfort food which may bring to mind fond memories of something your grandma would make. These treats have crispy, crumbly pastry filled with baked fruits, and are delicious served warm with a little vanilla crème anglaise on the side. I made mine with a mixture of golden delicious apples, raspberries and roughly chopped walnuts, but feel free to play around with any combination that you like. The ground almonds are important to help soak up some of the juices created during baking. There is not a lot of sugar included in the fruit mix; I like to brush the pastry with beaten egg and sprinkle a little sugar on it, so the edges caramelize nicely during baking.

The pastry needs to be made and then 'rested' for 1-2 hours in the fridge to firm up (but you can make it even more in advance if you like). I used a 16cm diameter bowl turned upside down as a guide to cut the discs of pastry. After placing the filling in the middle, I folded the edges inwards about 1.5cm over the fruit to help keep everything in place. This created a thin tart, about 12cm in diameter. Make sure there are no cracks around the edges of the pastry, so nothing leaks out of the tart while it cooks.

I used a combination of three flours which gave a lovely crumbly texture, but made a pastry crisp enough to hold? the juices of the fruit. The chickpea flour could be replaced with any gluten free flour (rice, buckwheat etc) This adds to the crumbliness of the pastry, whilst the bread flour will help bind it all together.
The below quantity of pastry should make around 8 individual tarts of 12cm , if you roll together all the pastry cuttings you have left from your first cut.
Pastry
- White bread flour (for example T65) 80g
- Whole wheat flour 50g
- Chickpea flour 140g
- Butter 120g
- Sugar 10g
- Salt 2g
- Water 80g
Filling for 8 tarts
- Golden Delicious apples 600g (Approximately 4 apples)
- Raspberries 300g
- Walnuts 100g
- Ground almonds 2 tablespoons
- Sugar 2 tablespoons
- Vanilla essence 1 teaspoon
1. Start by making the pastry. Cut the butter into small cubes and rub it into the mixture of the 3 flours, sugar and salt, until you achieve a breadcrumb texture. Then add the water to bind all the ingredients together.

2. Form a flat rectangle with the pastry about 1cm thick. Wrap it well in clingfilm, and place it in the fridge for a minimum of 1 hour.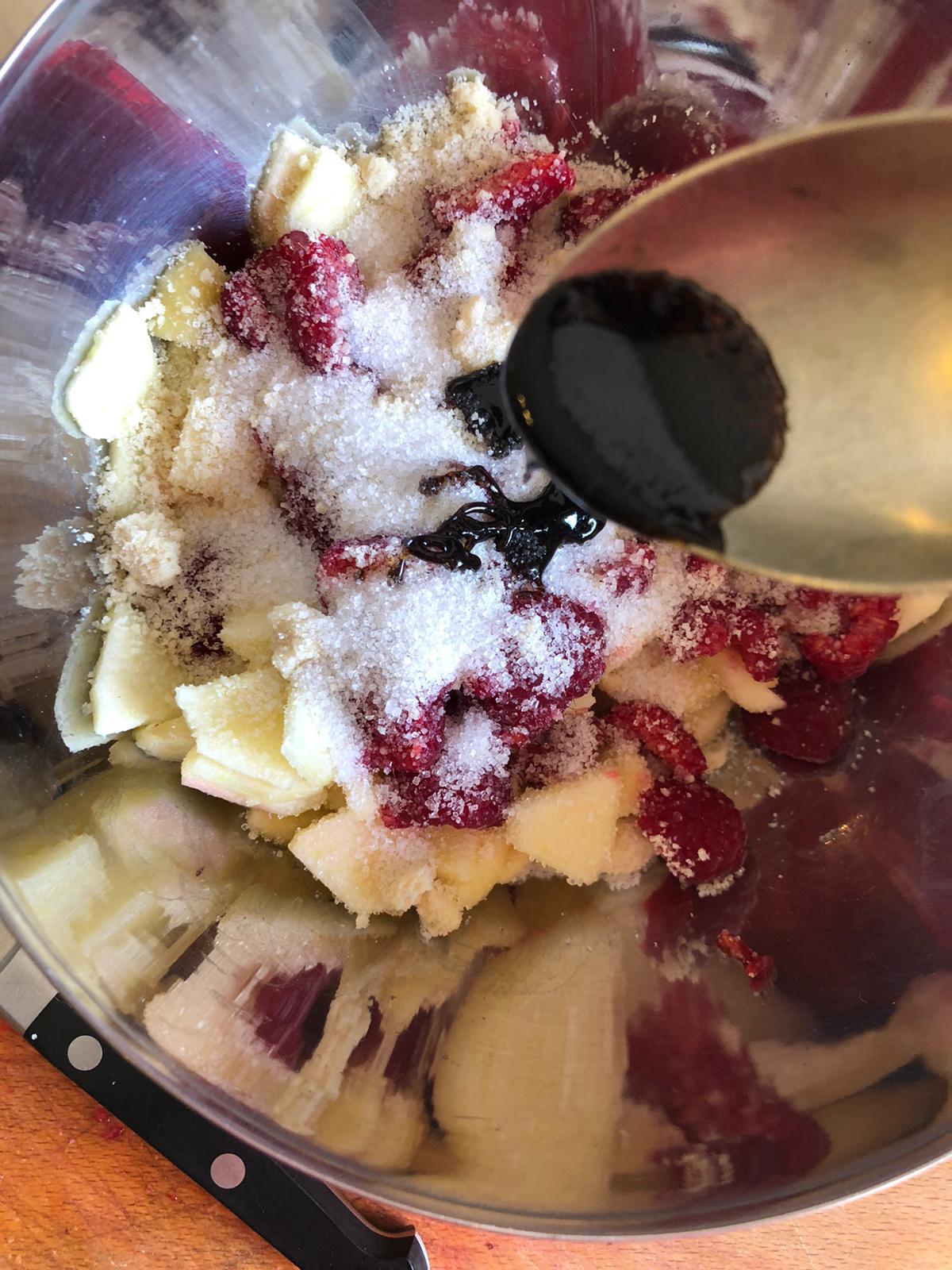 3. Wash and peel the fruit. Cut the apple into 8 pieces long pieces, then slice each one again sideways, so you are left with thin little triangles. Slice the raspberries in half and place them in a bowl with the apple. Then add the chopped walnuts, ground almonds, sugar and vanilla, and mix gently with a spoon.

4. Roll out the pastry until it is about 1.5-2mm thick, using a little flour on your work surface and on the dough itself. Turn it from time to time, and make sure it does not stick to the surface. Cut the discs to around 16 cm in diameter and place them on a baking tray lined with baking paper. If the dough softens and becomes hard to work with, put it in the freezer for 4-5mins until it becomes easier to handle.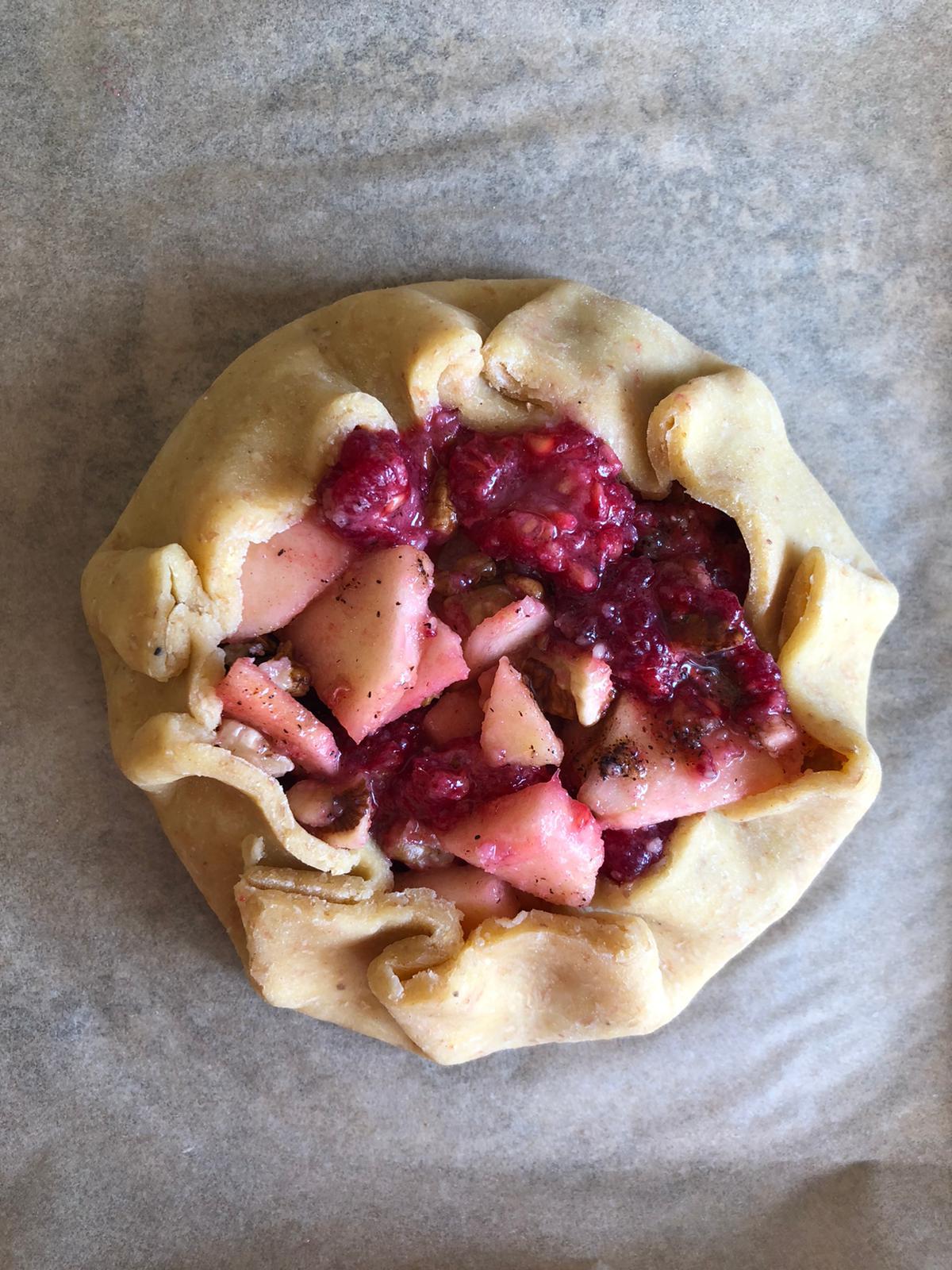 5. Place 2 heaped spoonful (or around 120-140g) of the fruit mixture in the middle of each pastry disc, leaving a clear space between the filling and the pastry, with a margin of around 1.5-2cm. Fold the edges of the pastry back inwards towards the filling, and pinch it together to create a fluted effect.

6. Brush the edges of the pastry with a little beaten egg, then sprinkle it with a little brown sugar.

7. Bake in a preheated oven at 170 degrees for around 20 to 25 minutes. The pastry will be caramelized and cooked when it is dark golden. Check the underneath is well cooked as well. Leave to cool slightly before eating.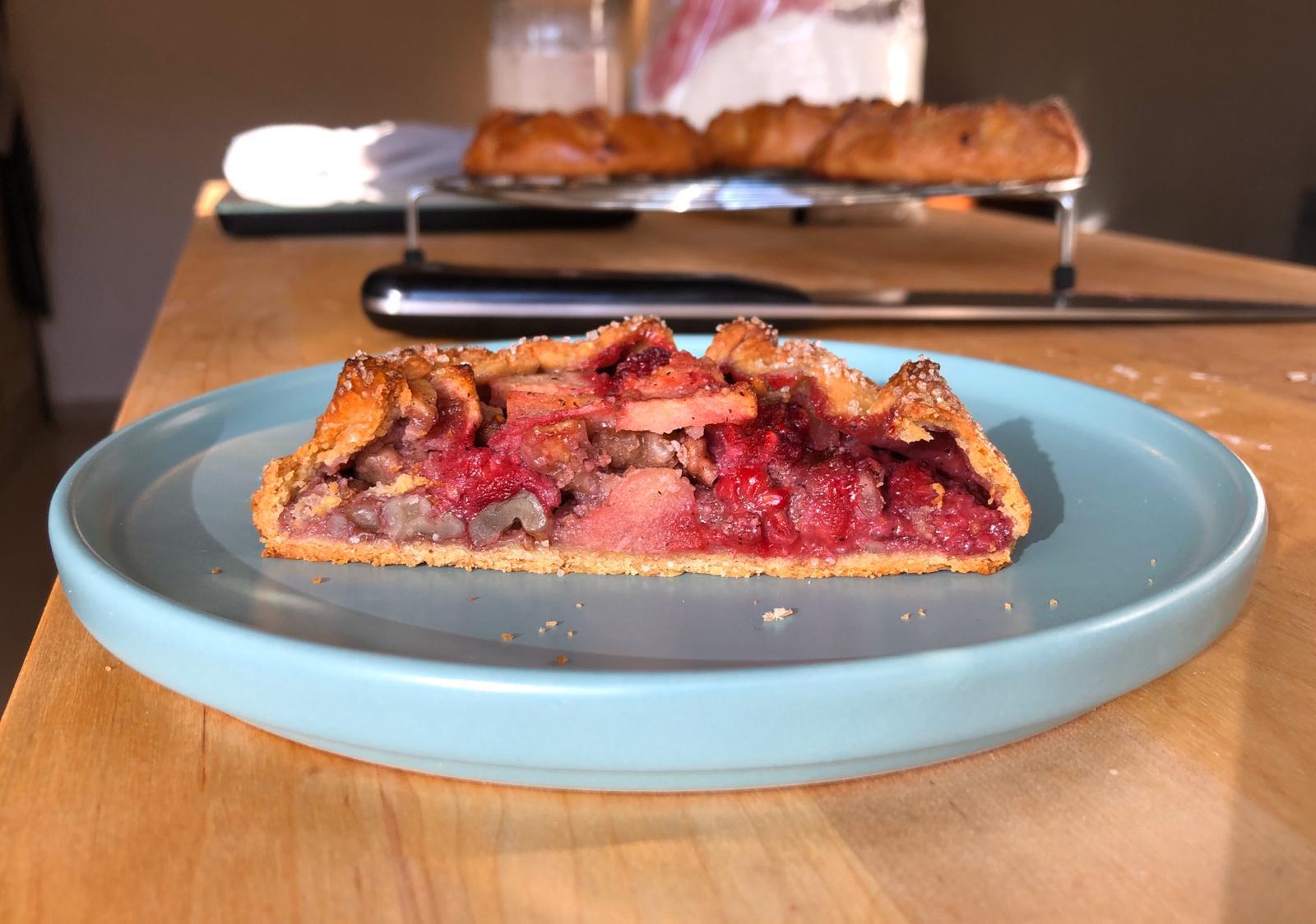 Hope you liked this recipe. If you tried it at home, please let us know how it went, we can't wait to see pictures of your apple, raspberry and walnut tart. Otherwise, you can find this recipe in Romanian here: Tartă cu mere, zmeură și nucă.